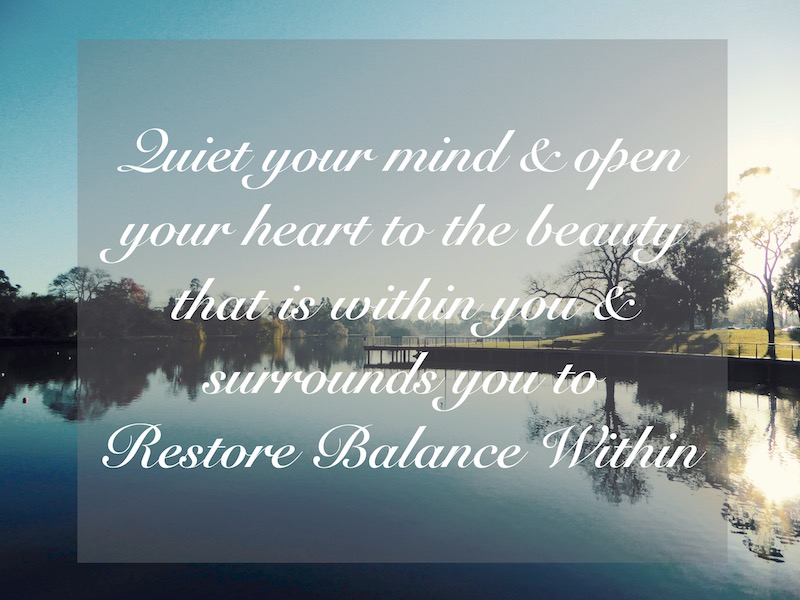 Holistic Gentle Yoga for Women
Hello beautiful Souls, welcome to Gentle Spirit Yoga ~ Holistic Gentle Yoga for Women.
I would like invite you to join me and a wonderful group of women as we explore all aspects of Yoga with a holistic and gentle approach within a supportive and nurturing environment. Classes are small which provides you with the opportunity to explore, accept and own your own unique brilliance, because we are all different. You will experience movement, meditation and the power of the breath, as well as the sound and vibration of the crystal singing bowl, tanpura and buffalo drum. Through the power of connecting to your breath you will be guided to focus and quiet your busy mind, honour your body and its needs and nourish your spirit, that deeper connection to Self.
There are many reasons to practice yoga, but you only need one and that's to experience the way one of my yoga classes makes you feel! Yoga isn't something that you do, it's an experience! 'Yoga' is the feeling the practice creates within you! Yoga is balance, inner peace, calm, quiet… Your yoga practice gives you the tools to connect to these feelings when life gets out of whack. Self care is a priority to restore balance within!
So ask yourself this question – How do I want to feel?
Yoga is a journey to reconnect with that spark within you. The one that gets lost and forgotten as a result of our busy lives because we are so busy doing and not being. I hope that you will make Gentle Spirit Yoga a part of your yoga journey.
What the ladies are saying:
The best day of the week… I love my yoga…  I feel totally safe & comfortable…  I can be myself…  It's so much more than just a yoga class, it seeps into my daily life… It's reconnected me to my faith…  I love the meditation…  I cope better…  I really enjoy the music…  Time for me…  Creates space within me…  I need my yoga class…  I am a better person because of yoga…  Healing…  Nourishes my soul…  Helped my anxiety… I feel more calm… I can handle things better… My family is calmer because I am calmer…  
Life Is Better With Yoga 🙂
Love & Blessings
Gwynn Stewart ~ 0409970379
Gentle Yoga Classes Bendigo ~ Class Timetable
Testimonials ~
"As a beginner to yoga, I was a little nervous about taking classes. Fortunately for me, Gentle Spirit Yoga has been a great place for me to start. Gwynn is very patient and considerate, meets me where I am, and is very encouraging. I have already noticed an increase in my flexibility and strength, as well as feeling more relaxed and calm after learning relaxation and breathing techniques. I can highly recommend taking classes at Gentle Spirit Yoga. You won't regret it." ~ Keren
*
"I have thoroughly enjoyed the Gentle Spirit Yoga classes for the last couple of years. Gwynn goes out of her way to make everyone feel comfortable and welcomed. Even though I had not done yoga before and was now retired and overweight, I really feel the benefits of the stretching and relaxation and leave every class glad I made the effort." ~ Cheryl
*
"In Gentle Spirit Yoga, Gwynn provides a nurturing and safe space for the practice of yoga. Her yoga teaching encompasses every level of yoga from low impact relaxation and revitalising poses to more powerful core strengthening poses. I find her meditation process at the end of each session particularly powerful and soothing at the same time, setting me up perfectly for the week ahead in the stressful world. My time in Gwynn's yoga sessions grants me timeout from the day to day grind as well as teaching me new tools for peaceful meditation, coping techniques and strengthening my body for each week to come. Thanks Gwynn for providing such a wonderful and safe experience in Gentle Spirit Yoga!"  ~  Amara
*
"I've done other exercise classes in the past but never straight Yoga. I was a little hesitant to try Yoga as it seemed in the too hard basket for me and my body. After the first class I was hooked – Gwynn's GSY class is now the highlight of my week. I leave feeling refreshed, relaxed and empowered by what I can do. Gwynn is a patient, attentive, informative and accommodating teacher and I love all the different elements of the class. I would recommend Gentle Spirit Yoga to anyone!"  ~  Kat
*
"I was encouraged to attend Gentle Spirit Yoga last year by a friend, I am so glad I took her advice. My experience with GSY has been very rewarding, as I suffer with lower back pain & Scoliosis, I needed a therapy that was gentle yet effective. I am a middle aged person and my thoughts of Yoga was "its for the younger generation" but I soon changed my mind I was very comfortable with my ability to accomplish my moves. There are day's when I am still not as pliable as I'd like and that is fine, Gwynn always encourages us to only do what is comfortable for OUR bodies at the time. Gwynn's attentive nature and serene presence has you coming away walking taller, feeling a lot more relaxed than when you first walked in and upon leaving the class, you even have a spring in your step." ~ Deb
*
"My journey with Multiple Sclerosis started three & a half years ago. I find Gentle Spirit Yoga helps my Mind, Body & Spirit to better manage my MS symptoms & the challenges I face living with a chronic illness everyday.
Yoga helps to improve my balance, flexibility, strength & range of motion to reduce falls & sprains due to having difficulty walking & balance issues associated with MS. I have muscle spasms in my legs & find yoga makes it easier to cope with the tight, stiff & sore muscles that MS causes. Yoga gives me a much needed higher energy level as I struggle with MS fatigue daily.  Continue Reading →