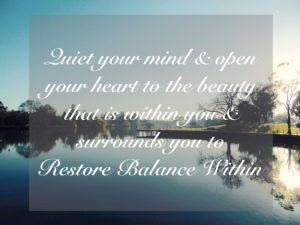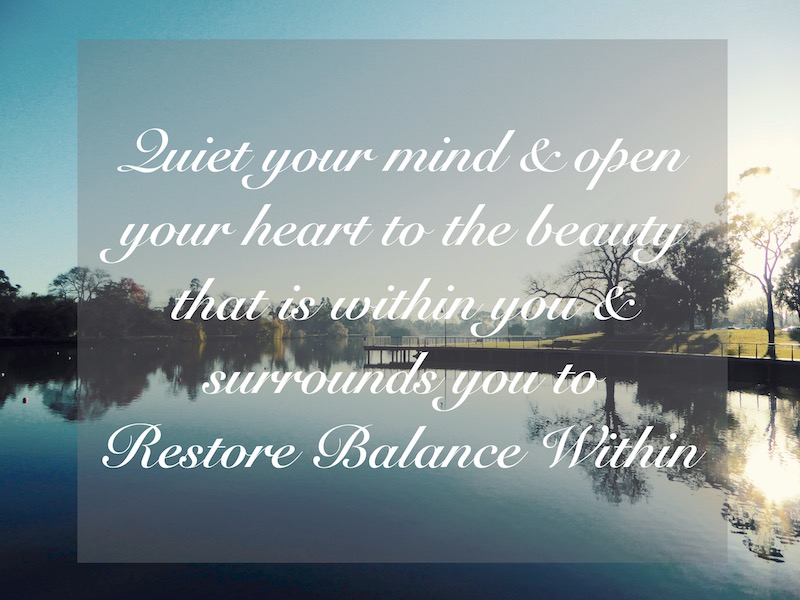 Holistic Gentle Yoga for Women & Meditation
Namaste beautiful soul,
Sadly due to the current situation the studio is temporarily closed to group gatherings for classes. It will re-open for group classes as soon as it is deemed safe to do so as directed by the Government.
I am offering a Live online Yoga class. This means that you will be able to join a class from the safety and comfort of your own home and yet still be together as a community. Simply book in through the booking tool or contact me and I can do it for you. I will send you a link the day before your class to enable you to join. Important: You must live in Australia to join my live  online class.
Please join my mailing list if you would like to be notified about any changes. A big Thank You for your support and I look forward to catching up. In the mean time enjoy establishing a home practice. I have some sequence videos available if you are seeking some guidance. I encourage you to get out of the thinking mind and just begin moving your body and see where it takes you. Please feel free to contact me if you would like me to send you a meditation.
Take care and stay safe.
Love & blessings, Gwynn xo
---
Hello beautiful Soul,
Thank you for taking this time for yourself. I would like to invite you to join me (Gwynn) and a wonderful group of women as we explore all aspects of Yoga and Meditation with a holistic and gentle approach within a supportive and nurturing environment. Classes are small to provide you with the opportunity to explore, accept and own your own unique brilliance, as we are all different.
Experience the power of connecting to your breath on a deeper level. Develop mindfulness to live within the present moment. And be guided to focus and quiet your busy mind, honour your own body and nourish your spirit to restore balance within.
Experience gentle, strengthening postures (asana), meditation and the power of the breath to calm your nervous system relieving anxiety and stress. Also incorporated into a class  is the sound and vibration of the crystal singing bowls (tuned to the heart chakra energy centre and higher heart chakra), the rhythm and vibration of the tanpura (Indian instrument) to restore and balance your energy and the soft, gentle beat of the buffalo drum to ground you.
Yoga is a journey to reconnect with that spark of divinity within you. The deepest longing of your Soul. It's what often gets lost and forgotten as a result of our busy lives as we are so busy 'doing' and not 'Being.' Yoga isn't something that you do, Yoga is an experience! 'Yoga' is the feeling the practice creates within you! Yoga is union between body, mind and spirit to establish inner peace, balance, connection, calm, quiet… Your yoga practice gives you the tools to connect to these feelings as part of your daily life.
Breathe & make time for yourself
Our stories may be different, but our hearts are the same. We all want to experience peace and a quiet stillness within our body and mind and connect to Spirit/Self. My aim is to provide you with a safe, nurturing and supportive environment and the tools and skills to live a more present and balanced life. I began teaching yoga to offer the hope that there is another way to cope with stress, anxiety, depression, a busy mind and the demands of daily life. Beneath it all there is a wonderful and precious Soul just waiting to shine. It's time to shine your light onto the world. Life really is better with Yoga!
What the ladies are saying:
The best day of the week… I love my yoga…  I feel totally safe & comfortable…  I can be myself…  It's so much more than just a yoga class, it seeps into my daily life… It's reconnected me to my faith…  I love the meditation…  I cope better…  I really enjoy the music…  Time for me…  Creates space within me…  I need my yoga class…  I am a better person because of yoga…  Healing…  Nourishes my soul…  Helped my anxiety… I feel more calm… I can handle things better… My family is calmer because I am calmer…  I feel so relaxed… I can breathe more deeply… I feel lighter… I am so much more present & mindful… I learned to let go & surrender… I learned to love & accept myself… Gwynn is a gentle soul & so quiet, patient, kind, loving, generous & caring…
Love & Blessings
Gwynn Stewart
Gentle Yoga Classes Bendigo ~ Class Timetable, details and bookings
Testimonials:
"As a beginner to yoga, I was a little nervous about taking classes. Fortunately for me, Gentle Spirit Yoga has been a great place for me to start. Gwynn is very patient and considerate, meets me where I am, and is very encouraging.  I have already noticed an increase in my flexibility and strength, as well as feeling more relaxed and calm after learning relaxation and breathing techniques. I can highly recommend taking classes at Gentle Spirit Yoga. You won't regret it." ~ Keren
*
"In Gentle Spirit Yoga, Gwynn provides a nurturing and safe space for the practice of yoga. Her yoga teaching encompasses every level of yoga from low impact relaxation and revitalising poses to more powerful core strengthening poses. I find her meditation process at the end of each session particularly powerful and soothing at the same time, setting me up perfectly for the week ahead in the stressful world. My time in Gwynn's yoga sessions grants me timeout from the day to day grind as well as teaching me new tools for peaceful meditation, coping techniques and strengthening my body for each week to come. Thanks Gwynn for providing such a wonderful and safe experience in Gentle Spirit Yoga!"  ~  Amara
*
"I've done other exercise classes in the past but never straight Yoga. I was a little hesitant to try Yoga as it seemed in the too hard basket for me and my body. After the first class I was hooked – Gwynn's GSY class is now the highlight of my week. I leave feeling refreshed, relaxed and empowered by what I can do. Gwynn is a patient, attentive, informative and accommodating teacher and I love all the different elements of the class. I would recommend Gentle Spirit Yoga to anyone!"  ~  Kat
*
"I was encouraged to attend Gentle Spirit Yoga last year by a friend, I am so glad I took her advice. My experience with GSY has been very rewarding, as I suffer with lower back pain & Scoliosis, I needed a therapy that was gentle yet effective. I am a middle aged person and my thoughts of Yoga was "its for the younger generation" but I soon changed my mind I was very comfortable with my ability to accomplish my moves. There are day's when I am still not as pliable as I'd like and that is fine, Gwynn always encourages us to only do what is comfortable for OUR bodies at the time. Gwynn's attentive nature and serene presence has you coming away walking taller, feeling a lot more relaxed than when you first walked in and upon leaving the class, you even have a spring in your step." ~ Deb
*
"My journey with Multiple Sclerosis started three & a half years ago. I find Gentle Spirit Yoga helps my Mind, Body & Spirit to better manage my MS symptoms & the challenges I face living with a chronic illness everyday.
Yoga helps to improve my balance, flexibility, strength & range of motion to reduce falls & sprains due to having difficulty walking & balance issues associated with MS. I have muscle spasms in my legs & find yoga makes it easier to cope with the tight, stiff & sore muscles that MS causes. Yoga gives me a much needed higher energy level as I struggle with MS fatigue daily.
The Deep Breathing we do in Yoga helps my mental clarity, concentration & memory as I have cognitive issues associated with MS. Oxygen is so important for life, we breathe every single moment of everyday. Deep Breathing really calms my anxiety, reduces stress & increases mindfulness which has taught me to focus on today & not worry about what the future may or may not hold for me with MS.
Gwynn is so lovely & helpful. I talk to her about my disability & she guides me to adapt the stretches & postures to suit my abilities on that day as my MS symptoms vary from day to day, hour to hour.
Yoga not only benefits me physically, but it helps me to be strong mentally & emotionally. It gives me a positive outlook on life, has taught me to be calm even in difficult & stressful situations & to live in the present moment.
Some days I don't want to go anywhere, including yoga but I force myself to go unless the fatigue is that bad that I just can't. After yoga, I am always glad that I went as it gives me a burst of energy & aliveness! I feel happy with myself for doing something I know is really good for my health & I always have a feeling of well being when I walk out of Yoga.
If you're thinking of trying Yoga, I highly recommend Gentle Spirit Yoga.
Yoga is for every(body)." ~ Heather